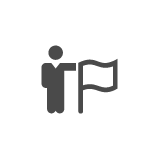 Organizational context
Your capacity to make the difference you're committed to making expands exponentially when your principal stakeholders own your vision as theirs and are passionate about realizing it. Creating a powerful organizational context is the key.
Compelling future
What would be possible if people throughout your organization were naturally and enthusiastically unleashed in service of your vision?
What would be possible if you could count on people at all levels of your organization to reliably plan, make decisions and take actions consistent with your vision and strategic objectives?
What if people experienced making a meaningful difference in bringing about a future that really mattered to them, regardless of their role in the organization?

When you have a compelling vision accompanied by a robust strategic framework, and both are widely owned and embraced, a whole new world of possibility opens up for what you and your organization can accomplish.

If you're interested, let's talk, and together we'll develop an approach that works for your organization.

High performance culture

What would be possible in your organization if…

people genuinely loved coming to work?
your values were truly alive in day-to-day practice, rather than languishing as clichés on nice wall posters?
you could count on consistently great results, with exceptional quality and the best customer experience, regardless of vagaries in circumstance or changes in leadership?

Many top executives believe that if you have a compelling future and effective strategy, and if your key leaders are on board, your organization will automatically line up and perform accordingly. From our experience, this is simply not the case. It takes much more.

Developing an intervention to build a high-performance culture is complex and multi-dimensional, and it starts with you. The pathway greatly depends on the nature of your organization, your current culture, and the culture you want to create. If you're interested in exploring this possibility, let's talk.