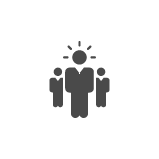 Leadership development
Your true legacy is in the hands of the leaders you develop – not only because of their vital role in what you are accomplishing today, but because they are pivotal to your vision unfolding powerfully into the future.
Leadership development
What would be possible if leaders throughout your organization rapidly and dramatically elevated their ability to produce results consistent with your vision?
What if you could count on your leaders operating with the highest level of integrity, responsibility and commitment at all times and in all circumstances?
What if you knew you could count on the next generation of leaders taking what you are creating today to an entirely new level in the future?
When you invest in your leaders, you are investing in the future of your organization.
For information about our flagship leadership development program, Being a Leader & the Effective Exercise of Leadership, click here.
If you're interested in exploring the possibility of high performance leadership training and development for your organization, let's talk.